I have received information and materials from ©Johnson & Johnson Consumer Inc. 2017.The opinions stated are my own. This is a sponsored post. #ForBetterTomorrows #BetterTomorrows #FallBack #CollectiveBias
With all the joys of parenthood, no one mentioned back pain to me. Why oh why?!? I had no idea how common minor back pain was after having a new baby. As little Declan is getting bigger, I've slowly noticed the backpain more often.
While my days are busy running around with Declan and Reagan, I've been more intentional with my evening routine in order to get a good night rest. As daylight hours are getting shorter, I really don't want to waste those few sunny hours I have because of a bad night's sleep caused by pain. (Seattle + winter = lots of RAIN!)
To help me sleep while relieving those aches and pains, I use TYLENOL® PM at night before going to bed. Even though Declan sleeps sound through the night, I'm learning that life as a new mom means much less sleep for me. I still can't figure that one out 🙂 .
Addressing the pain is important while also making sure I'm using every sleep trick I can think of to help get a good night sleep. Here's my tips & tricks to….
Sleeping through the Night & Solve Back Pain
Stretching 
Stretching is always a good habit. Not only is it better for joints and flexibility, but it can also help with sleep. I make use of evening TV time and spend 15 minutes each night doing some stretches. Plus I LOVE feeling productive while watching some shows.
TYLENOL®

 PM
Before heading off to sleep at night, I use TYLENOL® PM to help me get a good night's sleep for a full day ahead interrupted by pain. I love that it relieves minor aches and pains AND also helps me fall asleep. I keep my days super busy between Declan, Reagan and full time blogging so using a pain reliever that works while helping me fall asleep is a smart move. It's completely non-habit forming (when used as directed)!
You can purchase by hovering over the image below.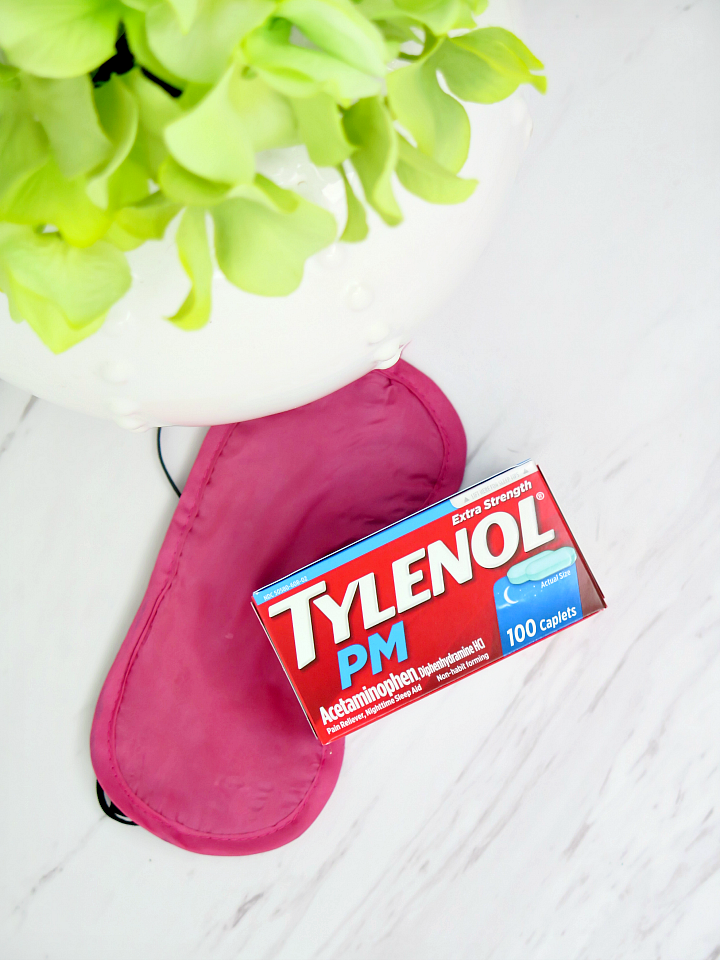 Remember to only use as directed and always read the directions on the package.
Eye mask
While the winter days are short in Seattle, the summer days are quite long. I LOVE extra sunshine in the evening, but it can be tough to fall asleep before the sun goes down. I use an eye mask when I'm heading to bed a little earlier than the sun is 🙂 . I keep it next to the TYLENOL® PM in my nightstand for easys access!
Lights
Save the bright lights for the day time and either turn off the lights or dim them while you're getting ready for bed. It's hard on your body to go from bright floresent lights to darkness. Plus, setting the mood for bedtime will help naturally transition your body to prepare to go to sleep.
Technology
This one's a tough one for me. I'm attached to my phone day AND night.  While turning my phone off in the evenings is the best option, it's just not realistic for me. Instead I use the 'Night Shift' option found in the Displays & Brightness setting of my iPhone. This automatically shifts the colors displayed to warmer end of the color spectrum during the night. Even iPhone says it may help you get a better night's sleep 🙂 .
Preparation
With the back pain I'm experiencing at night, the last thing I want to happen is to get stressed in the middle of the night about the next day. You know the feeling. You've got a busy day coming up and you wake up (or stay up) at night thinking about all you have to get done. Yes, sometimes this is unavoidable. Other times spending a little extra time in the evening can help prepare for the next day. At minimum, I try to always prep my lunch and outfit so that I'm not scrambling around in the morning.
Utilize pillows
When I'm ready to go to bed, I grab a couple extra pillows to use to support my back as I sleep. Laying on my back, I place a pillow under my knees for a little support at night. If I sleep on my side, I move the pillow in between my legs. This helps ensure I don't wake up with sharp pains in my back from sleeping in a funky position.
Ice pack
I've always thought heat was the magic solution for any type of pain, but ice is what really helps. I make my own ice pack by simply placing ice cubes inside a towel & running it under the sink quickly before putting into a plastic bag. Ten minutes of ice on my back each night helps significantly. Once I'm finished, I place the plastic bag in the freezer so it's ready for the next night!
Read a book
Ideally instead of being on my phone at night, I'm reading a book before I go to sleep. We all know that reading a book is a much better idea than scrolling through social media for a variety of reasons. I'm guilty of the latter a little too often. The less screen time we have immediately before going to bed, the easier it is to fall asleep.
Go to bed early
Last but not least: a simple trick – each night go to sleep just a couple minutes early. No, not when you're jumping in to bed to play on your phone, but when you're actually turning off the lights to go to sleep. Most of us just don't get enough sleep at night, so do yourself a favor and slowly adjust your sleep time.
TYLENOL® PM contains a pain reliever and nighttime sleep aid. ©Johnson & Johnson Consumer Inc. 2017 The third party trademarks used herein are trademarks of their respective owners.